SynoTact©
A common challenge for surgeons is the ability to differentiate between a postoperative inflammation and an acute or chronic PJI.
Currently, there is no "gold standard" PJI diagnostic available to surgeons.
Detact Diagnostics® are developing a direct, point of care, diagnostic test which is fast, affordable and provides actionable data: the SynoTact©.
Surgeons can use the SynoTact© directly postoperatively or a few days later in the out-patient clinic.
SynoTact© can quickly determine whether the patient has a normal inflammation or a more serious bacterial infection within the joint. The test can be used for acute as well as chronic PJI detection.
If bacterial presence is established in the synovial fluid, this needs to be acted upon as soon as possible to prevent more severe consequences such as revision surgery.
The SynoTact© is simple and quick to use
To use the SynoTact©  the surgeon simply aspirates 3.5 ml of synovial fluid from the patients disinfected knee. Inject 0.5 ml of this fluid into the Detact receptacle. Place the receptacle on a Vortex for 5 seconds, before placing the receptacle in the NIR Fluorometer, and within seconds actionable results are displayed. In case the assay is positive, the surgeon can start treatment immediately. The remaining 3 ml of synovial fluid can be sent in for cultures. Have a look at the short how-it-works video.
The SynoTact© provides fast real-time quantitative feedback
The SynoTact© provides fast real-time quantitative feedback on the presence of a bacterial infection, making time-consuming and expensive laboratory and radiology tests unnecessary. As a result, the healthcare provider can treat patients with an actual infection appropriately, and at the same, not over-treat patients who only have an inflammation (i.e. non-bacterial) with antibiotics.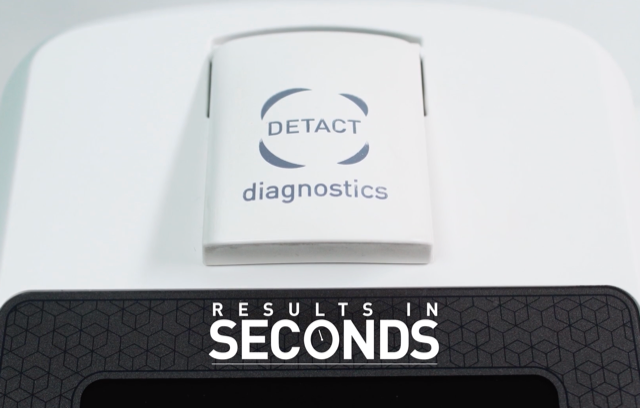 Use of this system has the potential to reduce morbidity and mortality to the patient, reduce antibiotic resistance, relieve the financial burden on the healthcare system and decrease liability to the provider and hospital.
As a healthcare provider, you can give the right patient the right treatment.