EnzoTact© PRO & EnzoTact© RAW, the only milk protease tests on the market.
EnzoTact© PRO & EnzoTact© RAW, quality discriminators that can be used on-site during any stage of processing for fast, actionable monitoring.
The presence of milk spoiling bacterial-produced proteases in both raw and post-pasteurised milk can lead to sweet curdling, making it unfit for consumption.
EnzoTact© PRO & EnzoTact© RAW are rapid tests (taking only 45-60 minutes), designed to test both post-pasteurised and raw milk for the presence of residual proteases.
The simple to use test procedures are intended to be used by an analyst with experience in aseptic technique in a laboratory or other controlled environment facility.
The Relative Fluorescence Units (RFU), emitted after contact with the target proteases, correspond with a concentration of these proteases. The detection reaction is measured using a specially designed small hand-held Near Infra-Red Fluorometer, the DeNIRO® NIR Fluorometer.
Instruction Video EnzoTact©PRO (English)
Instruction Video EnzoTact©PRO (Chinese)
The DeNIRO® NIR Fluorometer workflow.
Single-sample measurements are easy.
This user-friendly fluorometer delivers results using quick, simple assay procedures. The large, colour touch screen allows you to navigate through the various options easily. The instrument automatically performs calculations and settings. At the beginning of every day and with a new batch of Substrate, a blank should be performed. The blank will automatically be subtracted from readings by the DeNIRO® NIR Fluorometer.
It is optimised for measuring bacterial and/or enzymatic activity using the Detact Diagnostics® EnzoTact© assays.
EnzoTact© helping to improve milk safety and sustainability targets within the dairy industry.
EnzoTact© PRO & EnzoTact© RAW will contribute to the shift of the market from consumption of loose to packaged dairy, which will increase the volume of packaged dairy products. Currently, less than 10 per cent of the marketable milk consumed in countries like India and Pakistan is consumed, processed and packaged. 
This shift is expected to accelerate in the near future as a result of the growth of the middle-income class, the need for more milk of higher quality, as well as increasing urbanization. Both EnzoTact© products will improve sustainability within the dairy industry
| | | |
| --- | --- | --- |
| Product | Quantity | Cat. No. |
| EnzoTact© PRO Assay Set | 25 tests | PRO25 |
| EnzoTact© RAW Assay Set  | 25 tests | RAW25 |
| EnzoTact© Positive Control  | 1 control | PC1000 |
| DeNIRO® NIR Fluorometer | 1 each | 30010 |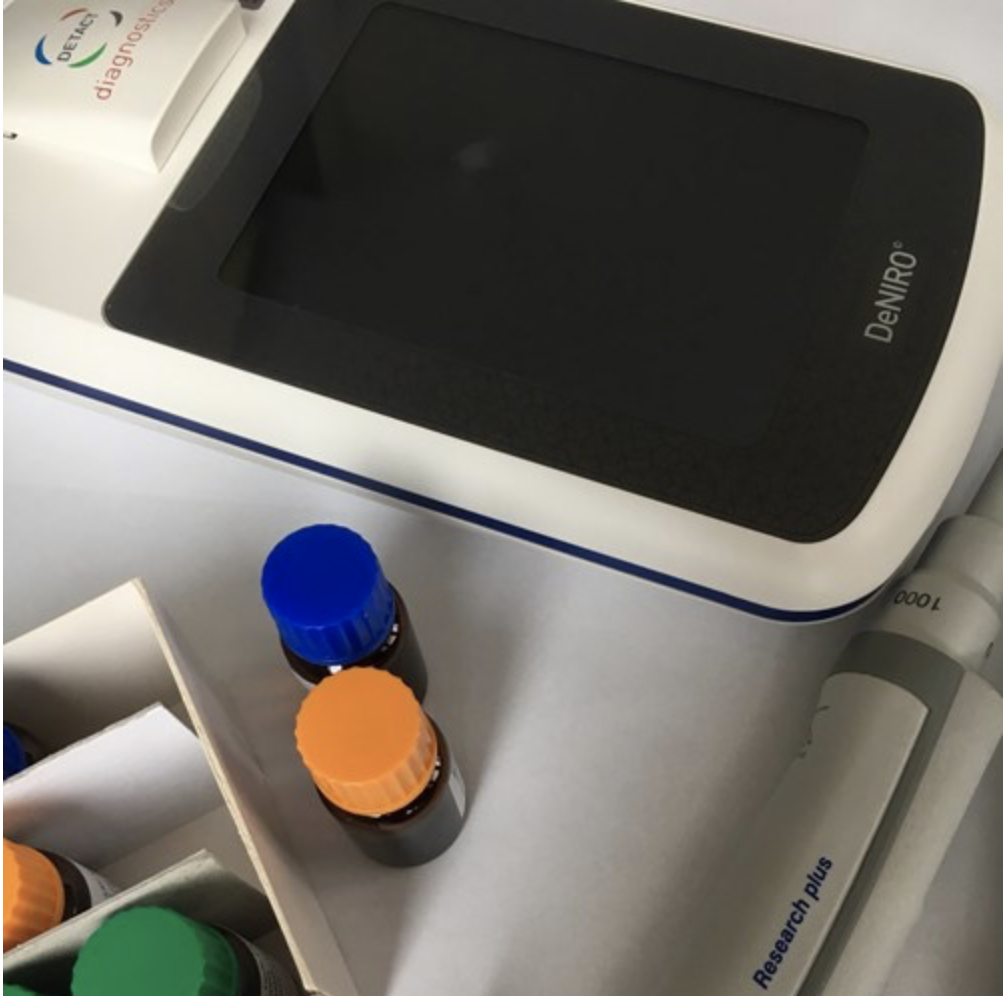 Detact Diagnostics Poster for NIZO Dairy Conference 2021
A RAPID & SPECIFIC ASSAY TO DETECT BACTERIAL CONTAMINATION IN MILK
By Maelys Chastel, Matthew Burton & Joost Gazendam
Click the button to download ->
Product Documentation
EnzoTact© - Limited Use Label/License